Over the course of its first three seasons, The Crown has garnered 39 Emmy nominations, including for craft categories, and converted those into 10 wins. This year, the Peter Morgan-created series could score its biggest nominations haul yet, including for all six of its principal actors: Olivia Colman as Queen Elizabeth II; Emma Corrin as Princess Diana; Gillian Anderson as Margaret Thatcher; Helena Bonham Carter as Princess Margaret; Josh O'Connor as Prince Charles; and Tobias Menzies as Prince Philip.
Produced by Left Bank Pictures, the show has consistently attracted the admiration of awards voters and critics, while also providing a massive ratings hit for Netflix. Last October, Suzanne Mackie departed her post at Left Bank, where she had helped steer The Crown as executive producer, to set up her own Orchid Pictures — continuing her relationship with Netflix. Mackie talks to Screen International, alongside actress Corrin, costume designer Amy Roberts (who won an Emmy for her work on The Crown in 2020) and hair & make-up designer Cate Hall (Emmy-nominated for the show in 2020).
Screen: Season four is the second and final season with the present cast. What are the challenges of working on a show with a regular turnover of actors?
Suzanne Mackie: Essentially, we made the decision at the very beginning of this journey that we would change cast every two seasons. Principally because we didn't think we could age Elizabeth and take her all the way from season one to season six. So changing cast seemed like a good idea, until you start working with Claire Foy [season one and two's Queen Elizabeth], Matt Smith [Prince Philip] and Vanessa Kirby [Princess Margaret] and you realise how brilliant they are. And the notion of recasting feels terrible. But it was so brilliant to pass the baton to Olivia [Colman, who plays Queen Elizabeth in seasons three and four] and to gather the new cast together. It feels like a proper new chapter; it feels deeper than just having a slightly older Queen or slightly older Prince Philip. And the audience really responds to that change. We've learned that the second season with the new cast [ie season four] seems to give us much more. There's a deepening chemistry.
Screen: Season four introduces us to Princess Diana — a hugely important character. How did you come to cast newcomer Emma Corrin in the role?
Mackie: It's probably one of the proudest moments in my career. We knew we didn't want to cast someone very well known. In Diana, we wanted someone that you almost needed to dress up, and who evolves from being that slightly awkward Sloane Ranger teen to a stronger woman. That's an extraordinary journey, and one the audience would need to completely accept and understand. We found Emma when we were casting Camilla [Parker Bowles] for season three [a role that went to Emerald Fennell]. Because Peter writes so far ahead, he had written the lunch scene between Camilla and Diana for season four. And because it's such a complex scene, he suggested we give it to the actors coming in to audition for Camilla. We decided to get an actor to read Diana's lines, and this young girl, a student, Emma, comes in to help out. I had a very strong feeling about her, immediately. She read that scene five times and we thought, "Blimey, she's good." So we put the camera on her, and had her in the scene. At the end, I looked at her and thought, "That might be Diana."
Screen: Emma, did you feel an immediate connection to the role?
Emma Corrin: When I was asked to go in to chemistry-read, I remember having a conversation with my agent and we decided to treat it as a sort of no-pressure audition situation. I did feel something in the room, there was a wonderful energy there. I remember Suzanne coming up to me afterwards and hugging me. And I thought, "Oh gosh!" But I'd been out of university a few months, and I hadn't any real experience. I had nothing to compare it to. I called my agent afterwards and said, "I feel like something changed in that room. I think they really liked me." And I remember my agent wisely saying, "Emma, I'm so glad it's gone well but just chalk it up to experience, don't analyse it."
Screen: Did you have any reservations about taking on such an icon when you were offered the role?
Corrin: There was a part of me that was thinking about the responsibility of taking on the role. But most of me was just so excited at the challenge. It's something I had wanted so bitterly, and so much, for so many years. So, honestly, it was a complete dream. I got to work with some incredible people like Josh, Gillian and Olivia. It was the biggest learning experience and such a joy to be part of.
Screen: What preparation did you have to undertake?
Corrin: I had an incredible research team who put together an amazing binder that had research that was relevant to all of our episodes. And then I started working with Polly [Bennett, movement director], day after day, building our Diana from the inside out. I also had a brilliant
dialect coach called William Conacher, and we broke down her voice completely to vowel sounds and mouth shapes, understanding why people spoke in this way at that time and how her voice is different from the other royals and why. And also, what made her voice unique, like that sort of downward tilt to the end. It was fascinating.
Screen: Where do you start when it comes to designing costumes and hair & make-up for these iconic characters?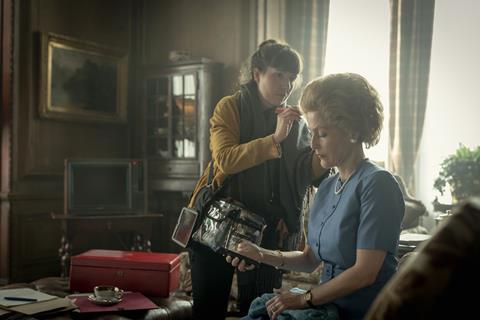 Cate Hall (hair and make-up designer): I love nothing more than painstakingly saving images in chronological order. I basically just start at the beginning for every character and I get as much as I can. I've got folders called things like "back of head". We become very familiar with these images, but then we have to get to a point where we start to leave them behind because they can start to get in the way. There's a point of magic where you get one or two little details, you get the outline. And because the wig is the thing that has to be fitted first, we start with that, and then make-up is this lovely flexible, changeable thing. Then you leave everything else up to the actor and just try not to worry about it.
Amy Roberts (costume designer): There's just so much visual information. Like Cate, my starting point is to absorb all that, and then throw it out the window. For me, The Crown is this amazing mixture of accuracy and naturalism, and I bookend my work with forensically accurate pieces, like weddings and investitures. But there are huge swathes of spaces among that where you can use your imagination and make it something else. The [private] audience scenes between the Queen and Thatcher, for example, were forensically worked out; we had long talks about where each woman is in each scenario. When Thatcher's son Mark is missing in the desert, and she was very distraught and vulnerable, I put her in a dress. Then there's a scene later on where we're in the middle of the Falklands War, and she's being hugely bombastic, and she's in a powerful blue suit with big shoulders. The Queen is much more discreet and gentle.
Hall: There's a consistency between the Queen and Thatcher, in that I don't think they wanted anyone to look at their hair. They wanted to be known for something else, so they didn't alter their style. Thatcher's wigs were my favourite thing in the series; it took us quite a while to nail them. We would do the classic roller set, and Peter would be like, "No, she's not there yet." So we had to essentially dry-bake it — fry it and crimp it to get that look of someone who is dying their hair and setting it every day. We also did subtle changes. It was more blonde at the beginning, and then we added more warmth and red tones for the middle of the season, where she is really strong. Then for the last episode, we added some grey in the hairline.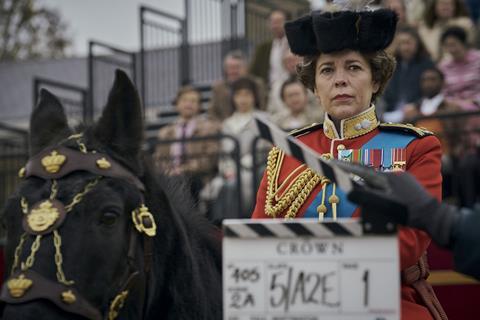 Screen: Some of these characters are so instantly recognisable. Is there a concern your designs could tip into caricature?
Roberts: Yes, absolutely. And that slightly horrifies me. We're telling a story, we're not making a documentary. If I thought about who I was designing for — the Queen, Prince Philip, Charles and Diana — I wouldn't be able to do anything. So I think it's best to just think this is a kind of wildly interesting dysfunctional family; a great big opera with tragedy and humour. And it's my job to illustrate that. When I read those scripts, I just see colour, more than anything.
Hall: We're so obsessed with truth and authenticity. And the odd thing about truth is it's a bit of a grey area, because you can religiously copy an image and what you're left with is something that feels unreal and fake. Whereas actually you have to trust that you can find a point where you have that as the outline and, beyond that, you can allow an audience to fill in the gaps. We're not hampered by prosthetics and fake noses; rarely do we use something that would form a barrier between our actor and the audience. I love that commitment to performance as a priority. And Peter has been living with these characters for so many years now so I find that, when we're not quite getting something, a small, well-placed note from him will shift my focus and give me the right sort of perspective.
Screen: That balance between drama and authenticity has always been at the heart of The Crown. Do you feel an equal responsibility to entertainment and the truth?
Mackie: Of course. I think that sensitivity is crucial in our business, because I think it shows empathy. But at the same time, we as a team have to slightly shut out the noise, not get drawn into too much debate. At the end of the day, we are storytellers, and the seasons have been worked out years in advance. Two years ago, I was working out what we do in season four, and knowing the essential story beats we would hit, whether Margaret Thatcher or Diana, and you shouldn't allow the wind to blow you too far off course.
Corrin: Once we've done all our research, I left the fact that they were real people aside. Because then it's like you're reacting. You're feeding off other people in the scene, you're feeding off the scripts and everything else falls by the wayside.
Screen: Over the season, Diana moves from 16-year-old schoolgirl to 28-year-old public princess, and must deal with a difficult marriage, motherhood, an eating disorder and constant media scrutiny. How did you show this psychological journey in a way that remained authentic but also made for a compelling dramatic arc?
Corrin: I played the two chords that ran all the way through her, that were constantly playing off against each other. And it was my challenge to find autonomy at any moment where I could, even the moments that she's feeling vulnerable. Because she's so emotionally stifled by the royal family, there is a huge strength for her in those moments where she is expressing her emotions and how she feels, if it's to other people or just privately by herself. There's strength in that vulnerability. I also enjoyed the scenes where Diana is rollerskating or dancing, really letting herself go. In those moments I asked to just have fun with it, and for it not to be choreographed. It captured Diana's spirit that was stifled in other scenes.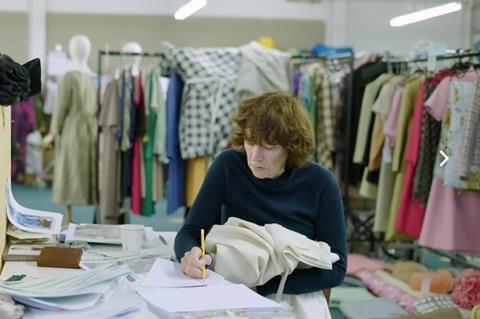 Roberts: When we meet Diana, she is this young girl in a Midsummer Night's Dream costume. By the end, she is a grown woman in a killer black velvet dress. When she first goes to the palace, she's in that rather awkward striped dress and she has that awful moment of interrupting Princess Margaret in the middle of her story. When she has lunch with Camilla, the suit is a bit awkward, a bit ill-fitting. It's a journey through her clothes to that final scene.
Hall: We were so fortunate with Emma that her skin was glorious. We didn't use much make-up in the early scenes. Our main tactic for ageing her was to put on more make-up at sharper angles, progress from that early rounder hairstyle to make it more self-consciously styled, added more highlights. For us, everything we do is in support of the emotional narrative. But for Diana, her make-up was like a suit of armour, and that's why I think her image became so manufactured. As the media attention grew, the need to hide from it grew at the same time.
Corrin: With the hair and make-up, that's when it all comes together. You've got all this stuff you've worked on with character and dialect, and then hair and make-up is like being in one of those [Spandex] Morphsuits: you zip it up and you're completely filled in. I loved wearing Diana's sheep jumper, I loved wearing her power suits in the scenes that were set in New York and obviously the wedding dress was amazing.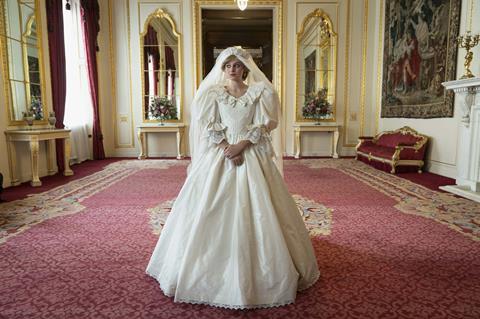 Screen: Like previous seasons, season four is jam-packed — with the addition of Margaret Thatcher, and the triangle between Charles, Diana and Camilla Parker Bowles. How do you make sure each story­line has space to breathe?
Mackie: We are a very tight editorial team; we've been working together for eight years now so we know each other incredibly well. We are with each other every single day — although over the last year-and-a-half it's all been via Zoom. Peter always says, "Don't worry about story arcs, let's be more organic." I had to shift my thinking right at the beginning of this because he [Peter] will, for example, set up a storyline with Princess Margaret in one episode that's pretty high stakes, and then we might not go back to those story elements for another five episodes. There's a sophistication in that, and I think the audience understands it. But there are times when you look at scripts across a season and you think, "Hang on, where is X, Y and Z?" And then I will just immediately pounce on Peter and say, "Come on, give us more!" We're very hawkish, we spend hours and hours analysing one scene, working out whether it feels truthful. That has nothing to do with accuracy. We know when it doesn't feel authentic, when a character is doing something that feels artificial, and we pounce on it. But Peter has an uncanny intuition, the emotional intelligence to understand characters' motivations.
Screen: You're working on season five, which stars Imelda Staunton as the Queen, and a sixth season is also planned, which will take in events up to the early 2000s. Do you think there will be any more?
Mackie: Peter has said it very articulately, that he simply can't write something unless there has been time to gain a proper perspective. And I think he's always felt 10 years is the minimum amount of time that he can see something in a historical context, to allow him to really understand it. I don't think he'll deviate from that. We all know these stories, but what Peter does so brilliantly is get underneath that, and understand the landscape in a more nuanced, complex, surprising way. The minute he starts trying to do that sooner, it will inevitably feel contrived or artificial. So, although this has been an absolute career highlight for me, it will absolutely be time to move on.