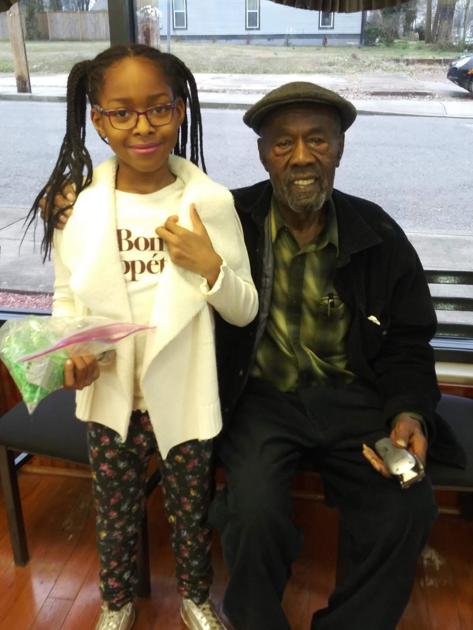 Neijae Graham Henries appears to be a normal 11-year-old. She's from West Philadelphia, wears glasses, and gets B's in school. What you don't see about Neijae is that she is cutting her hair and started at seven.
Self-proclaimed "the world's youngest barber" cut hair at back-to-school events, cut for the homeless, and was even on "Kids Say The Darndest Things." It all started because of a barber orientation. "My mom saw it on Instagram and put my brother there. After orientation, he decided he didn't want to do it. When I got home from school one day, I saw her looking at guidance's Instagram posts and started asking questions because I was so intrigued, "said Neijae. The rest is history.
Neijae's interest in haircuts began to grow, and she asked barbers to teach her. Neijae has been developing his profession for three years and has taken part in barber competitions. Now she's the subject of a profile on Whistle's YouTube series "My Hustle," which highlights young entrepreneurs. The episode of Neijae, gives a glimpse into her haircut world. The viewer is invited to her cutting station to watch her cut her hair, and some of the people who have helped Neijae along the way are also featured.
Neijae mostly cuts men's hair, but her mother, Jamie Granham, remembers some resistance when she started. "I think she had just turned eight at the time and people had never seen anything like it, so they were very worried. I don't think she remembers it, but she just had to persevere until someone finally gave her the opportunity. It was really good because it taught him perseverance. You won't get it the first time. You just keep working, getting better and better, and you end up being where you need to be.
Fades and cuts aren't the only styles Neijae has done. She even gave someone a Mohawk! "So I made this Mohawk for this young lady and I was very proud of myself because I had never done a Mohawk or cut a woman's hair. Cutting a Mohawk in a head seems like something that could go wrong. Neijae said she researched how to cut a Mohawk before work and was advised by a barber during the cut to help her out. Neijae is where she is today thanks to the many advices of her elders. She even visited Media Mogul's father Oprah Winfrey in his barbershop.
This ambitious young woman has high hopes and big dreams. She loves basketball and longs to end up cutting the hair of basketball star Lebron James. Neijae is a Lakers fan and wants to make sure their star is fresh. When asked why a West Philly girl wasn't a Philadelphia Sixers fan, she replied, "The Lakers have better defense and better strategies."
His ambition does not stop there. She has noticed how many products are used during the haircutting process and is now working on creating her own grooming products. "I was intrigued by the products because you need hairspray and beard grooming products and gel and shampoo and conditioner," Neijae said. Her goal is to continue to become a haircut master and to have her products in store. She also wants to be a surgeon.